Speaker Profile: Yuriy Reznik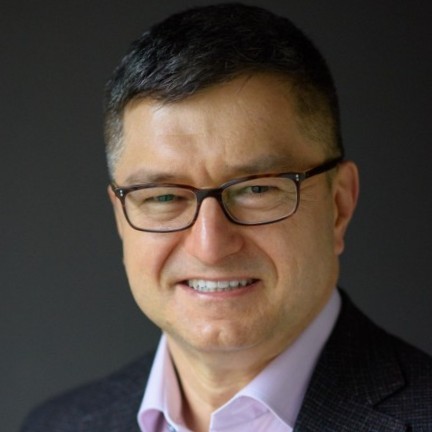 Technology Fellow and Vice President of Research
Yuriy Reznik is a Technology Fellow and Vice President of Research at Brightcove, Inc. Previously, he held engineering and management positions at InterDigital, Inc. (2011-2016), Qualcomm Inc. (2005-2011), and RealNetworks, Inc. (1998-2005). In 2008 he was a Visiting Scholar at the Information Systems Laboratory at Stanford University. Since 2001 he was also involved in the work of ITU-T SG16 and MPEG standards committees and made contributions to several multimedia coding and delivery standards, including ITU-T H.264 / MPEG-4 AVC, MPEG-4 ALS, ITU-T G.718, ITU-T H.265 / MPEG HEVC, and MPEG DASH. Several technologies, standards, and products that Yuriy Reznik has helped to develop (RealAudio / RealVideo, ITU-T H.264 / MPEG-4 AVC, Zencoder, Brightcove CAE, and MPEG-DASH) have been recognized by the NATAS Technology & Engineering Emmy Awards. Yuriy Reznik holds a Ph.D. degree in Computer Science from Kyiv University. He is a senior member of IEEE, a senior member of SPIE, and a member of the ACM, AES, and SMPTE. He is a co-author of over 150 conference and journal papers and co-inventor of over 80 granted US patents. 
HLS/DASH Content Steering at Scale
1:50 PM to 2:10 PM
In modern-era streaming, CDN switching and multi-CDN delivery technologies are increasingly important. They help with scale, reliability, and QOS/QOE aspects of streaming delivery. However, the implementation of CDN switching is not a trivial task. Over the years, several technologies have been proposed, with different cons and pros. SVTA's players and playback study group is currently studying this topic, intending to produce a report and guidelines for effective uses of such technologies in practice. One of the technologies currently under consideration by SVTA is server-side switching, implemented using Content Steering features of HLS and DASH standards. In this talk, I will briefly overview this technology, its advantages, and its potential in practice. I will also describe some limitations and challenges when deploying it at scale. I will then explain how these challenges can be addressed by turning the HLS/DASH content steering servers into stateless functions deployable at the edge (using advanced functions of many existing CDNs). With such an implementation, the steering system becomes mass-scalable, economical to deploy, and enables a full spectrum of traffic and QOE/QOS-based optimizations. In the end, I will show a quick demo of such a system, under development as an open-source project in SVTA.